Dolphin SVN :
"Dolphin"Dejó de existir desde hace unos meses, y salió el nuevo Dolphin "SVN", que aumenta la velocidad de los juego de gamecube, y tambien ahora emula juegos de Wii. Para poder "emular" bien los roms, necesitas una buena tarjeta de vidéo, un procesador mínimo de 2.1GHz, 2GB de Ram y un procesador Intel Core 2 Duo (2 cpus). Ya no tendrás que usar el famoso "gcos" en el emulador SVN, si no solo debes activar el dynarec y el uso del dualcore para tener una velocidad muy veloz. Imágenes :
Instrucciones Wii :
Sports Party :
Luigi Mansion :
Smash Bros Melee :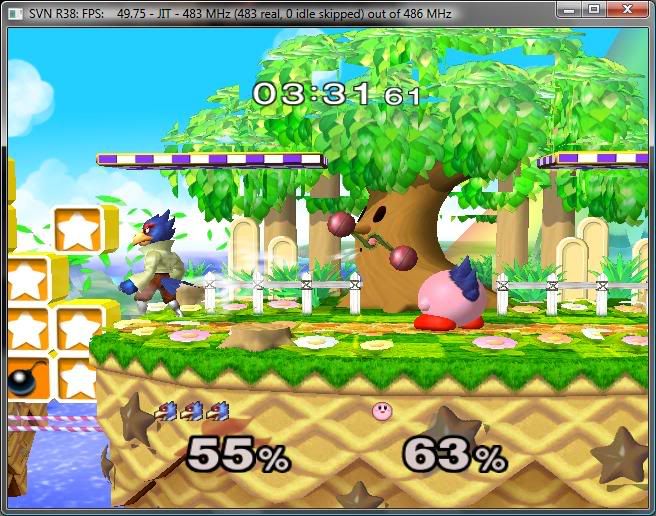 Zelda Wind Waker :
Ese es el emulador de Dolphin SVN, y ahora, unos videos en Dolphin SVN :
Zelda TP running on Dolphin WX R37
NGC - Zelda The Wind Waker on PC - DolphinWx R28 -C2D 3.6Ghz
NGC - S. Smash Bros Melee on PC - DolphinWx R28 -C2D 3.6Ghz
Soluciones a Errores con Dolphin SVN :
Al probar un rom en dolphin SVN, me sale "no enviar" : Se debe a que tu tarjeta de vidéo no soporta los gráficos del emulador, y el Dolphin SVN necesita unos 110MB de Vidéo, preferible una Nvidia GeForce, asegúrate que cumpla eso, o si no, inténtalo con el otro Plugin Gráfico.
Me sale "Failed to load plugin Plugins\Plugin_PadSimple.dll - unknown error" : Ese error sale casi en todas las PCs, intenta eliminar ese Plugin Gráfico para que no salga ese error.
Me sale "Failed to load plugin Plugins\Plugin_VideoDX9.dll - unknown error" : Instala las últimas actualizaciones del directx 9. La última que salió fue en Julio, descárgatelo. Si el error sigue, comprate otra tarjeta de video (te sale con el error "no enviar").
Esos son los errores que mayormente salen, si te salen mas errores escribe un comentario aquí con tu error o mandame un mensaje : harry_nishi@hotmail.com, draco_el_malfoy@yahoo.com
Descargas :
Dolphin SVN x64 bits Rev 137 : Pronto, ya que la mayoría tiene el x32 bits.
Dolphin SVN x32 bits Rev 137 : Megaupload
Contraseña de los archivos : "harry_nishi" (sin las comillas)
Hecho por : Harry_Nishi/Toon_Link/MasterKillua